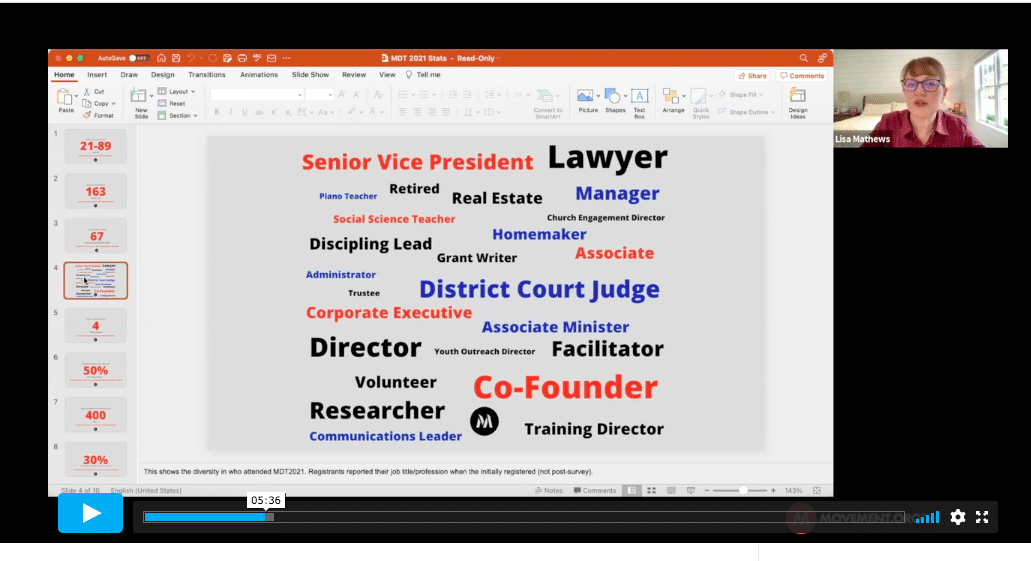 November 4th, 2:00 PM (EDT)
On Thursday, November 4th, we gathered to discuss the outcomes from Movement Day TOGETHER. We thank God for the diverse group of leaders He brought together on this day, and the way it has already propelled leaders to continue movement in their cities. Interestingly, the variety in leaders was demonstrated in age, line of work, and even longevity of ministry work. In addition, we were able to hear from Jose Duran about the many cities in Latin America who participated both in-person and virtually, and the vision to expand strategically partnering with city leaders already at work in Latin America.
Next month, we plan to hear from Lisa Mathews as she presents findings from her most recent Listening Tour with 50 leaders across the United States.
We also look forward to 2022 as a study guide of The Movement Way will be available for cities to use as a tool for their city movements.
You can watch the full US City Leaders Call HERE.
Lisa Mathews
lmathews@movement.org
US City Movement Catalyst
MOVEMENT.ORG, formerly known as The NYC Leadership Center, was founded in 2008. Our mission is to catalyze leaders to spiritually and socially impact their cities through rigorous research, uniting prayer, unified local leadership, and powerful collaboration between diverse sectors.
Copyright © 2021 MOVEMENT.ORG, All rights reserved.
You're receiving this email because you've expressed interest in Movement Day or MOVEMENT.ORG. Add us to your address book so emails arrive in your inbox!
Our mailing address is:
MOVEMENT.ORG
2 Washington St Fl 20
New York, NY 10004-3411
Want to change how you receive these emails?
You can update your preferences or unsubscribe from this list.