In spite of the cancellation of Australia's Movement Day National Gathering, see how the unity of Christ across Australia is coming together in remarkable ways to love, support and pray for their country. At times like this, we are all one, and we can learn from each other.
Read A Message from ACC's National President
CALL TO PRAYER
A Message from ACC's National President
Hello my friend,
We find ourselves in an incredible time in human history. The COVID19 Virus is causing chaos in every sphere of society. As a result, fear is gripping the hearts and minds of people everywhere. The current predictions of organisations such as the W.H.O. are dire, should this pandemic not be stopped.
This is where the Church must stand in the gap!
I have a conviction that it is the time for the Church of Jesus Christ in this nation to stand united in prayer until we see this pandemic stopped. Hence this email – which follows wonderful conversations that I have had with many of you.
I have been overwhelmed by the unprecedented support and unity that has been expressed when I have spoken to leaders of denominations and ministries across Australia. We all agree that we should pray – regardless of our traditions. Many of you already have some strategies in place, but I wonder if we could agree to meet on "common ground" around a simple strategy which is as follows:
Launching this Thursday 19th March, 1900 hours (daily from then on).
Pray for our nation in response to COVID19. (The 19th and 1900hours is simply an effective reminder and connection).
Partner with intercessors across the nation who will carry a great burden of prayer through this season.
Call a National Day of Prayer and Fasting on Sunday 29th March. (We acknowledge this to be a Sunday of significance amongst some of our traditional church friends).
Some points to note:
This does not replace anything you have already initiated. (This is an 'and' not 'or' strategy)
I would appreciate you distributing this across your database.
Let's stand together on the promise of 2 Chronicles 7:14.
Pray in unity the promises of Psalm 91 (an interesting reverse of 19). Here are two poignant verses within Psalm 91 that our team have been declaring:
14 "Because he loves me," says the Lord, "I will rescue him;
I will protect him, for he acknowledges my name.
15 He will call on me, and I will answer him;
I will be with him in trouble,
I will deliver him and honour him.
Finally, please find attached an example of communication from a dear brother, Bishop Philip Huggins – who has begun communication regarding this initiative, in his office as NCCA President.\
WAYNE ALCORN
National President
AUSTRALIAN CHRISTIAN CHURCHES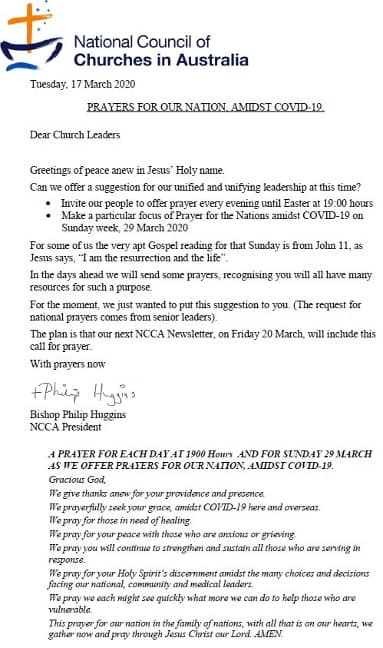 The purpose of the Movement Australia?
Movement Australia prophetically declares that Australian cities belong to God.
Movement Australia champions a new paradigm where the local Church and local Christian leaders make a choice to come together in humility, trust and reconciled diversity to become a generational, city-wide family.
The focus of this city-wide family is to serve one another, accept responsibility for the stubborn facts affecting their city and engage collaboratively to bring solutions that permeate their city with a generous, localised gospel that releases beauty and shalom.
The impact of this new paradigm is showcased at Movement Day.
Visit the Movement Day website – www.movementday.com.au