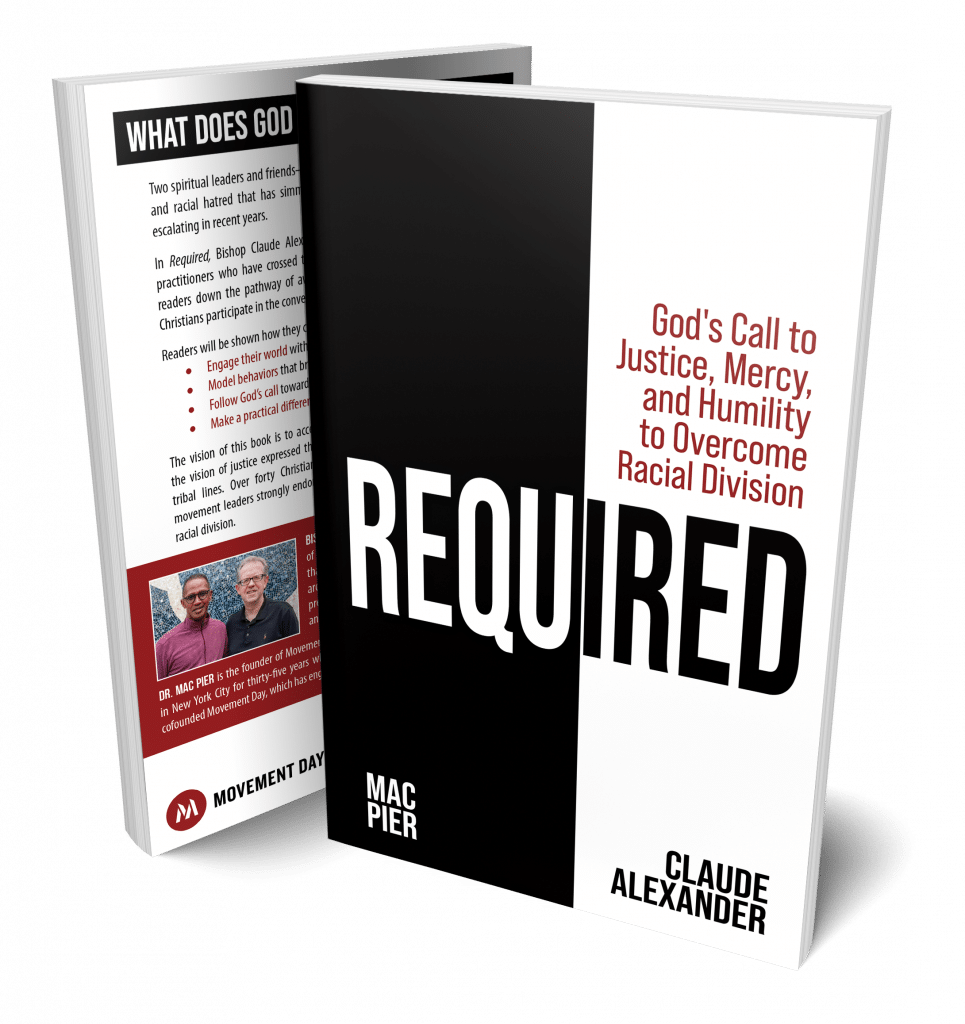 The purpose of Required: God's Call to Justice, Mercy, and Humility to Overcome Racial Division is to foster unity in the church across the racial spectrum to bring healing to communities and cities. This unity will be evidenced as apply the commands of Micah 6:8 toward justice, mercy, and humility. Practically the book speaks to how we exercise awareness, ownership, and agency in fostering intentional efforts to address the very racial divide in the church and society.
In a March 2021 Gallup poll questioning how much Americans personally worried about race relations, 73 percent said they worried a great deal or fair amount. Seventy-one percent expressed being either very dissatisfied or somewhat dissatisfied with the state of race relations.
A July 6, 2021, release of an InterVarsity Christian Fellowship survey of student attitudes on 127 campuses revealed that their most important social issue is racial justice (39 percent).
We recognize that a divided church in a divided society cannot fulfill God's purposes. We offer this book as a conversation and a roadmap toward engaging God's church globally in the important work of unity and reconciliation rooted in justice, mercy, and humility.
"Through their friendship and ministry partnerships, Dr. Mac Pier and Bishop Claude Alexzander have created a meaningful framework of what it looks like to live better together. They remind us that racial healing begins with the sharing of our stories.  An important book for important times!" — Rev. Dr. Nicole Martin Chief Ministry Impact Officer, American Bible Society
---
"In Required: God's Call to Justice, Mercy, and Humility to Overcome Racial Division, Claude Alexander and Mac Pier have given us a gift. One black, the other white, they've invited us into their honest, meaningful, and theologically rich conversation about Gospel integrity and racial reconciliation." — Peter Wehner, Senior Fellow, Ethics and Public Policy Center, Contributing Opinion Writer, the New York Times, Contributing Writer, The Atlantic
---
"An inspiring and provocative book. It teaches, guides, and propels us toward God's design of racial reconciliation while highlighting the role of relationships and movements such as the Lausanne Movement and Movement.org in bridging the divide." — Las G. Newmann, PhD, Global Associate Director for Regions, Lausanne Movement
---
"Required is a distinct call to action rooted in an understanding of Scripture and ourselves. Claude and Mac compellingly invites us to reach beyond our own limits to live into the beauty—and challenge—of Jesus' call to unity." — Craig Sider, President & CEO, Movement.org
---
"My two good friends have collaborated to write this book that, given their respective backgrounds and friendship, speaks powerfully into the call on each of us to justice, mercy, and humility to overcome racial tensions...An important contribution to this necessary important dialogue." — Bob Doll, Chief Investment Officer, Crossmark Global Investments
---
"I've heard the questions asked recently, 'What do we do in times like this?' In God's Call to Justice Mercy, and Humility to Overcome Racial Division, Claude Alexander and Mac Pier provide practical wisdom to help answer this question while echoing the message of script to Love and Love others." — J. Frank Harrison III, Chairman & CEO, Coca-Cola Consolidated
---
"Required is an urgent pivot in the tired dialogue on race amongst evangelicals, which too often is an end in itself, devoid of missional context. Pier and Alexander help us to see the dialogue and work of reconciliation as rooted in the very missional viability of the future of the Church." — York Moore, Executive Director, Catalytic Partnerships, InterVarsity Christian Fellowship
---
"Mac Pier and Claude Alexander used their experiences to give us a blueprint and a way forward for racial healing in this nation. A must read for all who seek a unified nation free of racial conflict." — The Honorable Rev. Dr. W. Wilson Goode, Sr, Former Mayor, City of Philadelphia
---
"Sometimes the most important conversations are the ones we overhear. In this book, two internationally respected Christian leaders allow us to 'overhear' them as they have the kind of conversation many which they could have: honest, direct, vulnerable, reasonable, and full of love." — Russell Moore, Christianity Today