So, how has COVID-19 impacted MOVEMENT.ORG since March?
We couldn't have planned the last 2+ months nor could we have imagined the scope and acceleration of our ministry.
While gatherings planned for Dubai, Australia, Africa, and North America were all postponed, at MOVEMENT.ORG we find ourselves in an unprecedented season of mission opportunity.
From North America to the South Pacific and all points in between, city movement leaders find themselves as convening hubs for serving the city.

Local and national government leaders are looking to city movement leaders to rally the breadth and depth of the Christian community.

City churches and ministries are demonstrating a fresh desire to join together to be a tangible witness to their communities.

Global, regional, national, and city Zoom conversations are bringing together 1,000s of leaders – many previously unconnected – for the spiritual and social flourishing of cities.
Roger Sutton, our European Global Hub Leader observes, "City movement ministry has advanced by 10 years in a matter of 2 months."
I invite you to explore a few snapshots of God at work through our global network over this disruptive season.
In Christ,
Craig Sider
President & CEO
MOVEMENT.ORG
How we are responding around the world
Adam Durso and his team at LEAD.NYC believe that "Leaders should never have to lead alone." They have been working tirelessly to provide support and resources for NYC-area church, marketplace and ministry leaders through prayer, equipping and connecting. 
Their work has laid the foundation for collaboration with leadership at the highest levels during this crisis. Adam has been involved in weekly calls including:
A

White House Task Force

including White House officials and Hispanic leaders from across the country

Statewide updates for New York

with Governor Cuomo, Pastor A. R. Bernard, Pastor at Christian Cultural Center Megachurch, and Reverend Que English, Deputy Director, Governor's Office of Faith-Based Initiatives 

The Mayor's Clergy Advisory Council

with Mayor DeBlasio and other key New York City officials. One recent call was an open dialogue with Mayor DeBlasio, Cardinal Dolan, and Rabbi Potasnik, Executive Vice President of the New York Board of Rabbis, on how to begin opening churches and places of worship. 
LEAD.NYC recently partnered with Chirlane McCray, First Lady of New York, and Kay Warren, co-founder of Saddleback Church, for the Bring Your Light: Faith and Mental Health virtual event.
Through the 10 Zip Codes Project, LEAD.NYC serves communities in New York that are already systemically underserved and marginalized. They are also getting hit the hardest by the virus. In light of COVID-19, resources are being focused on church-led food relief and assistance programs in these zip codes, including a grant to the NYC Love Kitchen (serving 500 families per week), the Christian Cultural Center's Food Assistance Program (serving thousands) and the Rescue Alliance (serving those impacted by homelessness and housing issues). Additional support efforts include the comprehensive mentoring and community engagement programs of Heart of a Champion, Viva Uptown, Young Life and Youth for Christ.
Beginning April 16, MOVEMENT.ORG has been hosting weekly Zoom calls for US City Leaders. We've seen significant growth as we convene through relationships and prayer, collaborate by sharing best practices from our city leaders and working together towards advancement, catalyze and motivate others towards the flourishing of their cities, and celebrate the move of God that has been at work. 
Since the series began, we have hosted 10 Zoom Calls with US City Leaders. In total, we have had 240* unique sign-ins, participating in 2.5 calls each. Attendees have spent more than 438 hours listening to best practices and how God is moving in cities across the US and the world.  We have averaged 94 participants per call and have seen our interest list grow by more than 44% since we started.
The power of collaboration within the Movement.org family and our weekly US City Leaders call has allowed city movement leaders to have access to wisdom and knowledge and applicable best practices in these difficult days. In the past three weeks, when city movements seeking unity were called on to be peace-makers in the midst of racial division, we were able to gather them around the teaching of Claude Alexander, Justin Giboney, Clarence Hill, Garland Hunt, and Tony Dungy. These black leaders and "elders" further educated city leaders concerning the deep hurt of historic racism. They revealed the hope that we have in a unified big "C" church in every city. Education turned to application as the leaders of the unity movement in Philadelphia, Glenn McDowell, Bob Oliver, and Wilson Goode, presented best practices of prayer, service, listening, displays of oneness, confession, and the public commitment to lament and healing. In the midst of COVID-19 and racial crisis, the unity of city movements, the unity in cities, and the collective wisdom and knowledge of Movement.org/USA is continuing to advance the spiritual and social flourishing in cities. We are truly better together!
Next US City Leaders Meeting (Zoom)
Bi-weekly starting June 4th, 2:00 PM (EST)
To watch the video from previous conversations, access the recordings
In response to COVID-19, MOVEMENT.ORG has accelerated its efforts to unify leaders around the world to collaborate, share best practices, and to pray for the people of our cities. In early April, MOVEMENT.ORG hosted the first in a series of Global City Leaders Calls.
60-minute Zoom meeting, hosted by Roger Sutton

400+ leaders 

6 continents

60+ countries

3,600 attendees on Facebook Livestream
It was inspiring, encouraging, humbling, and stirring. 
We heard moving stories from India, Africa, Spain, and Australia. We prayed for the fragile places in the world. Reports and prayers were offered from 6 continents – North America, South America, Africa, Europe, Asia, Australia (MCS).
From Spain, we felt the anguish of those facing COVID-19 in the city of Madrid. From Australia, we heard about the efforts to provide food security to prostitutes.
While God has given each of us heart and concern for our city and our country, the Global Cities Leader gathering lifted our eyes to see the devastating impact in some of the most challenging places in the world.
Next Global City Leaders Meeting (Zoom)
Wednesday, June 24, at 7:00 AM (EST)
God is working powerfully in city movements around the world; from the South Pacific to Asia, from Africa to SE Asia, from Europe to Canada to South America. The Global Hub Leaders: Ian Shelton (South Pacific), Mark V. (India), Roger Sutton (Europe), Peter Watt (Africa), Tim Day (Canada) and Jim Liske (United States) are serving in this season with creativity and responsiveness. Following is a snapshot from two regions: the UK and India, while powerful city movement stories are emerging from every part of the globe.
'Impressive' is the word Roger Sutton uses to describe city movement activity and influence in the UK these past several months. There are more than 125 city movements in the UK where pastors and Christians in other spheres join together for prayer and collaborative action. As a convener of these leaders, Roger was invited into several 10 Downing Street conversations in order to help mobilize churches in cities all across the country. Roger has facilitated national zoom conversations - involving more than 100 city movement leaders – on topics such as: "A Leaders Lunch with the Mayor of Bristol" and "What our communities need from the church beyond COVID-19."
Movement Day UK and Gather also hosted a series of five Zoom Meetings aimed at helping churches develop and implement urgent strategies to support their cities through the COVID-19 crisis.
Food and Debt Poverty conversation
Working with Civic Authorities
Praying for our cities in this crisis
Mental health and Bereavement issues 
Sharing Faith in a Time of Crisis
Since the launch of Movement Day Chennai in 2018, churches in Chennai are partnering together for city-wide impact. After addressing this issue at the Movement Day, dozens of churches have initiated outreaches and planted 45 new churches in the past several years. An example of partnership is that 30 children's ministry organizations and hundreds of churches have joined together to reach the millions of children between the ages of 4-14.
Then COVID-19 hit India. In March, this country of 1.3 billion announced one of the strictest lockdowns in the world.  The economic impact caused by the shutdown in a country with little social safety net has been devastating, especially among the poor.
Mark (name protected) is MOVEMENT.ORG's Global Hub Leader for India. He reports that in an unprecedented move, the Hindu-influenced government in Chennai (pop: 7 million) has invited the Christian city movement team to help mobilize churches to address acute poverty throughout the city. The long work of building unity across churches provides a powerful witness in this time of need.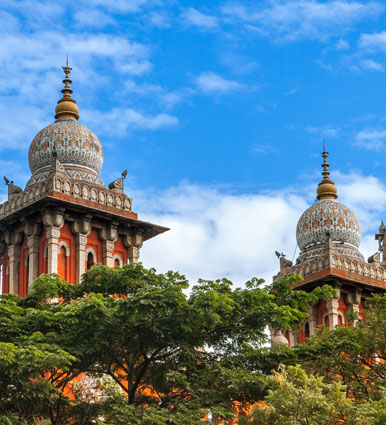 Movement Day X 2020 (MDX) Goes Virtual
An Online Global Event | By Invitation Only | Sept. 22 & 23, 2020
Who Will Be Attending?
1500 International Leaders

6 Continents

100 Countries

300 Cities
Movement Day X (MDX) is a once-in-a-decade gathering. This year we are celebrating the 10th Anniversary of Movement Day in New York City, as well as inspiring and catalyzing city leaders from around the world for the next 10 years. 
We look forward to hearing stories of momentum and helping to make connections between leaders and cities. The technology platform for the conference will be a new approach and has the potential to lay solid groundwork for future events in the post-pandemic environment.
It will be exciting to unite together with an eye to God's work in cities through 2030.
God is at work in powerful ways during the most globally disruptive moment in 75 years. Thank you for your continued partnership in bringing MOVEMENT.ORG to this point. We are thankful for the opportunity to serve with you around the world.